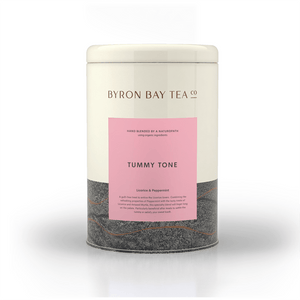 Tummy Tone Teabag Tin 50tb Certified Organic
Description

Health Benefits

Reviews
A guilt-free treat to entice the licorice lovers. Combining the refreshing properties of Peppermint with the tasty treats of Licorice and Aniseed Myrtle, this specialty blend will linger long on the palate. Particularly beneficial after meals to settle the tummy or satisfy your sweet tooth. The large tin is an attractive and practical way to store and access your Tummy Tone teabags. The biodegradable pyramid teabags are packaged in a re-usable bag that can be emptied into the tin once purchased. The tin has a tight seal that helps to maintain the quality and freshness of the pyramid teabags.
Contents- 50 Pyramid Teabags
Tummy Tone has been specifically designed to assist with-: reducing sugar cravings and thereby helping with weight loss; poor digestion (reducing pain, cramping and flatulence); nervous system support; poor digestion and immune enhancement. Licorice Root (Glycyrrhiza glabra)- Licorice has an adrenal tonic and immune stimulant action, so may assist in times of stress or when feeling a little run down. Additionally, it has a tonifying action on the gastrointestinal lining and may reduce inflammation and thereby assist with digestion and elimination. Peppermint (Mentha peperita)- Peppermint has been traditionally used to relieve the symptoms of intestinal gas associated with the consumption of certain foods. It is commonly used today to treat digestive pain and cramping, bloating, flatulence and nausea. Fennel Seeds (Foeniculum vulgare)- are an excellent stomach and intestinal remedy that relieves flatulence and colic while stimulating digestion and appetite. Aniseed Myrtle ( Backhousia anisata)- Aniseed Myrtle has an anti-viral, anti-fungal and antiseptic qualities and is useful in the treatment of respiratory infection. It has also been found to be high in antioxidants to help protect the body against free radical damage and disease and to slow down the ageing process.
Delicious tea
Love this tea. A great way to start my day.
Simply Delicious
A very tasty tea with positive health benefits.
Tummy Tone
Most Flavoursome Tea.. Yummo I don't look for anything sweet after drinking this and it is good for your belly.
Tummy Tone - loose leaf tea, delicious!!
I stumbled across Byron Bay tea company at a day spa and have never looked back! Tummy tone is the perfect end to your day with lingering notes of peppermint and licorice and you won't need dessert when you have a cup of this tea in your hand! It's honestly heavenly! Thank-you!!
---