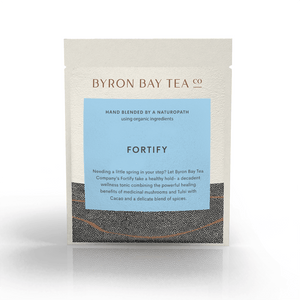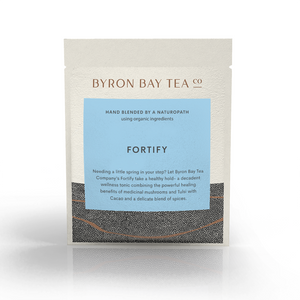 Sold! (I've tried a lot of different cacao blends)
I am someone who understands and values cacao in my life from both a health perspective as well as spiritual one. I have tried all sorts of cacao blends over the years and this is now amongst my favourites as it tastes wonderful and has all that nourishing goodness I enjoy from a cacao blend.
Mushroom Latte
I absolutely love the flavour of the mushroom latte but, despite trying to dissolve the mix with a little hot water in my mug before pouring in the steamed milk, I always end up with a lot of sediment at the bottom of my cup. I would love some tips on how to improve this.
Hi Nicky,
Thanks for your message and review. Some people don't mind the sediment at the bottom but I can understand if you don't and can recommend just straining the tea before you pour into your cup.
These teacup infusers are fabulous and just so easy to use so I can highly recommend these if you don't have one at home-:
https://byronbayteacompany.com.au/collections/teaware/products/teaware-teacup-infuser-retail-box
Hope this helps and hopefully this makes drinking Fortify more enjoyable for you.
Have a great day,
Sarita
Fortify and Soothe
I have this before bed as a soothing health drink. It doesn't have a strong cacao flavor so sometimes I add more pure cacao. It has a earthy flavor - maybe its the mushrooms - but knowing it's doing me good makes my body happy. The Tulsi is associated with helping with sleep too. I'm enjoying it!
The most delicious healthy hot chocolate!
Absolutely delicious hot chocolate with a delicate hint of spices. Also great knowing it has medicinal mushrooms!
Obsessed
This is the best afternoon pick me up. Spicy & perfectly balanced, I blended mine with coconut & almond milk, then added a pinch of cayenne & chaga extract. Feeling happy, focused & energised - obsessed with this tea!
---