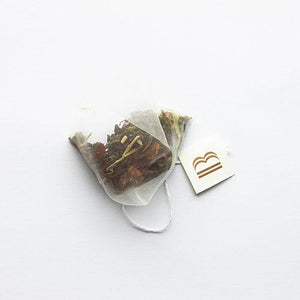 Energy Teabag Refill Bag 100tb
Description

Wellness Benefits

Reviews
Brighten your day with this clean, balanced and lively infusion of Green Tea, Siberian Ginseng, Gotu Kola and mixed berries. A perky and delightful tea to pick you up in the morning, inspire your afternoon, or energise your evening. A healthy alternative to coffee. Enjoy!
Ingredients: Green Tea*, Gotu Kola, Siberian Ginseng*, Blackcurrants, Strawberries, Blackberries, Hibiscus, Rosehips, Bilberries, Elderberries (*Certified Organic)
The refill bag is a re-sealable bag that helps to maintain the quality and freshness of Energy teabags. It can be used to refill the tin or to simply store in the cupboard as is. Containing 100 biodegradable pyramid Energy teabags- this is perfect for the avid tea drinker.
Contents- 100 Pyramid Teabags
Energy has been specifically designed to assist with-: Increasing energy, endurance and stamina; reducing the effects of stress on the body (physical, mental and emotional); improving memory and concentration; and, supporting the immune system.
Siberian Ginseng (Eleutherococcus senticosus)- recognised in Asia for thousands of years as an energy boosting tonic. Ginseng is used as an "adaptogen"- a herb that increases the body's general resistance to all types of stress. It works by increasing the supply of oxygen to all cells in your body, thereby improving your alertness and endurance.
Green Tea (Camellia sinensis)- is high in antioxidants and acts as a mild stimulant to the central nervous system as it naturally contains a small amount of caffeine. Small amounts of caffeine have been found to be beneficial in many ways.
Gotu Kola (Centella asiatica)- recognised in India as a herb that improves memory and concentration and extends longevity.
Rosehips (Rosa canina)- provides one of the best natural and freely available sources of vitamin C making it useful in treating weakness and debility.
Berries- are rich sources of antioxidants and can be used to help cleanse the blood of toxins and protect the body from any free radical damage. They taste delicious too!
Amazing
This tea is so beautiful! Perfect for the mornings with such a nice berry flavour! Will be buying again!
---