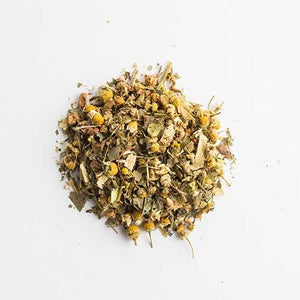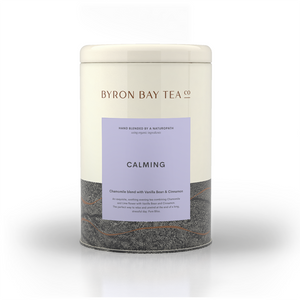 Calming Leaf Tin 150g Certified Organic
Description

Health Benefits

Reviews
An exquisite, soothing evening tea combining Chamomile and Lime flower with Vanilla Bean and Cinnamon. The perfect way to relax and unwind at the end of a long, stressful day. Pure bliss. The large tin is an attractive and practical way to store and access your Calming tea. The tea is packaged in a re-usable bag that can be emptied into the tin once purchased. The tin has a tight seal that helps to maintain the quality and freshness of the tea. It makes approximately 110 cups of tea- perfect for the avid tea drinker.
Contents- 150g (110 cups)
Calming has been specifically designed to assist with-: calming and nourishing the nervous system; reducing stress, anxiety and insomnia. Chamomile (Matricaria recutita)- widely recognised for its relaxing properties and gentle sedative action and can assist in treating anxiety and insomnia. Passionflower (Passiflora incarnata)- traditionally used by Native American tribes as an overall well-being tonic and today it is used as a herbal medicine to treat nervous tension, anxiety and insomnia. Lime blossoms (Tilia europa)- well known for its relaxing properties which helps to ease nervous tension, anxiety and raised blood pressure.
D
Dean Zaccagnini-Hitchcock
Love it !!
I drink this tea most nights , really helps me relax and sleep after busy days. Highly recommend it,
Delicious and relaxing
One of the best bed time teas I've tried. Definitely assisted in helping me get to sleep and rest easier too. I'm so happy I found this
Definitely helping ...
I bought the Calming tea bags after one of your staff suggested that they may help with sleeping. Still not sleeping all night but I am definitely getting to sleep a bit quicker. Thanks for the suggestion!
The yummiest herbal tea
I discovered this tea when travelling through the Byron region in a local corner store.. so so glad I found it and your beautiful company. The calming blend is so delicious and perfect to have after dinner to wind down.
---